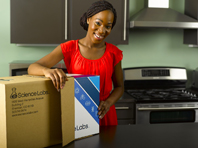 Why eScience Labs?
eScience Labs partners with hundreds of higher education institutions to provide remote
students an opportunity to engage in real science exploration outside of the traditional
laboratory environment.
ORDER A LAB KIT!
STEP 1:
        Create an account
STEP 2:
        Click on HAVE A CODE
        and enter the code from
        your teacher or bookstore.
STEP 3:
        Add to cart and checkout!
          Student experience is key to
           student success:
    
Watch how eScience Labs can help you create an authentic lab experience for your online students!