December 23rd, 2013: Volunteering and spreading goodwill is a common theme throughout the holiday season, but for eScience Labs, these ideals are part of our everyday culture. 2013 was a great year for us in many ways. We increased learning opportunities, found new ways to support our staff and clients, and strengthened our give-back program. Here is a summary of our favorite donations.
City Kids Wilderness: This noble organization is "a non-profit outdoor education program for underserved and at-risk inner-city youth from the Washington, DC metropolitan area," (http://www.citykidsdc.org/who-we-are). We were able to support City Kids by donating school supplies for the learning curriculum in Jackson Wyoming this summer.
St. Elizabeth's School: This school provides "an outstanding educational environment that has a commitment to the development of the whole child academically, socially, spiritually and artistically." (Walter Tusson McCoy, Founding Head of St. Elizabeth's. See more at:http://stelizabethsdenver.org/about-ses/st-elizabeths-school-walter-mcco...). We donated art supplies for the Visual Arts Department to help St. Elizabeth's achieve their mission.

Stars for Douglas County: This is a local, non-profit organization "dedicated to supporting the visual arts in public education and expanding the visual arts in our community" (Julie Holladay, Director of Stars for Douglas County). eScience Labs donated sketch pads, paint, brushes, etc.

Oak Avenue Intermediate School: A middle school located in Temple City, California committed to empowering and enabling 7th and 8th grade students. We were able to provide the Art, Science, History, English, and Special Education Departments with unique school supplies to support their students.

The Denver Rescue Mission - A Turkey on Every Table: This drive aims to "bring Thanksgiving into the homes of people in need," (https://www.denverrescuemission.org/turkey). Here we donated 1400 boxes for the Denver Rescue Mission to pack and deliver to families across Colorado.

We had a great time interfacing with these upstanding organizations, and are proud to support them as they create a more hospitable, and well-informed community for all. Looking forward to a great 2014!

Happy Holidays.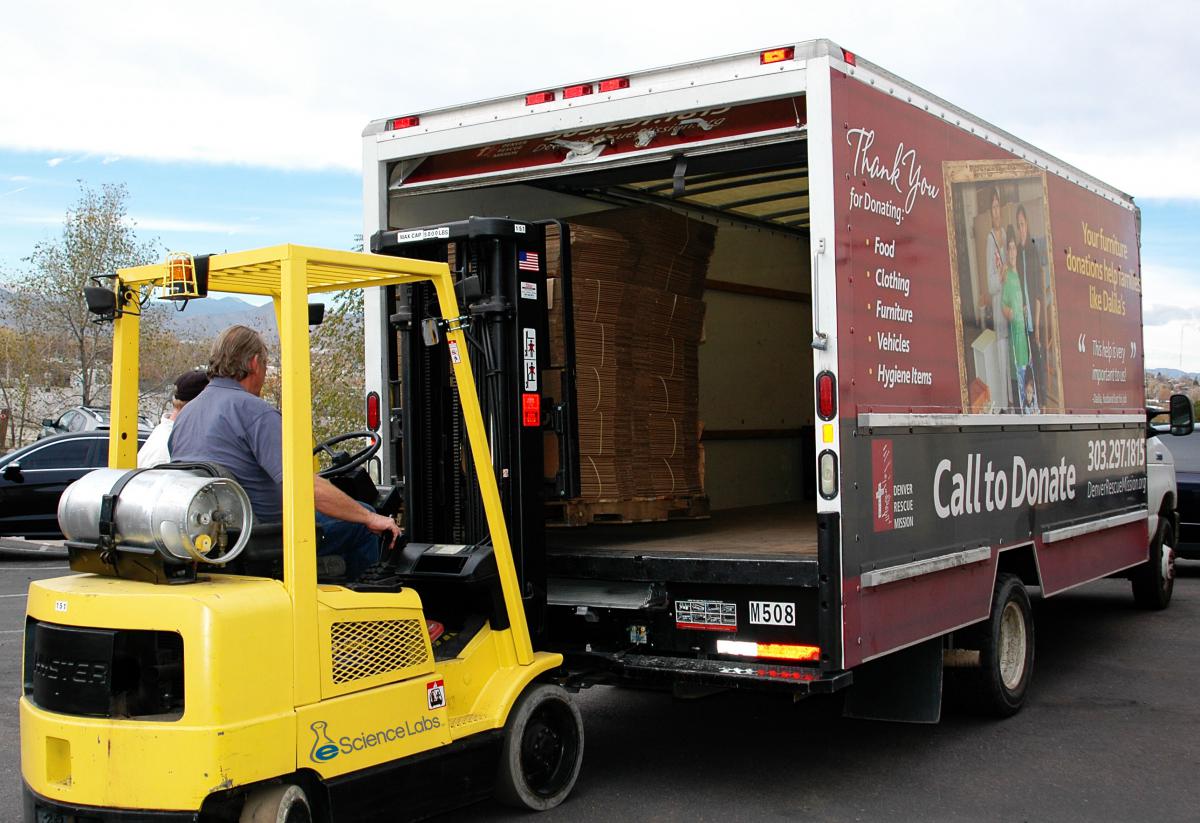 Donating boxes for A Turkey on Every Table!