At eScience Labs, we're committed to sustainability and constantly looking at ways to reduce our environmental footprint. As a company focused on science education, eScience Labs is particularly conscious of the impact that our products and packaging can have on the planet. This is why we've invested time and resources in a year-long project to optimize and improve the cardboard packaging for all ESL lab kits to significantly reduce the amount of materials that are used.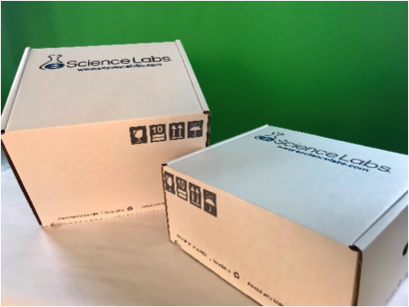 "We've always focused on green initiatives with our packaging--using recycled materials whenever we could. Our new boxes will certainly continue these practices, but we've also managed to decrease the amount of materials that are needed. Our new lab kit cases will save approximately 70,000 pounds of cardboard material each year. That's cardboard that won't need to be recycled or end up as waste" explained Ken Bronson, eScience Labs' Operations Manager.
In the process of developing new lab kit boxes that reduce environmental impact, special focus was placed on quality and durability. These new Colorado-produced boxes were designed to protect contents and ensure that educational materials arrive safe and secure for students. This attention to detail in the design phase and additional emphasis placed on protection ensure that eScience Labs' shipping and fulfillment process is smooth and easy for everyone involved. 
Bronson added, "eScience Labs has an excellent track record of quality and the added-protection offered by these new boxes will ensure that we keep it that way! With lightning fast shipping and attention to detail, our fulfillment program can go a long way to ensure that students have what they need - when they need it!"
As the industry leader in curriculum and coverage, eScience Labs is now forging the way in sustainability and shipping. In addition to reducing the amount of cardboard needed, eScience Labs' new, ergonomically configured lab kit boxes are constructed with renewable materials, soy-based ink, clearly identified safety icons and each kit is carefully packed utilizing recycled packing supplies. 
This new, locally-produced, renewable kit box is just one more way eScience Labs is dedicated to serving students and instructors better!
Have questions or feedback regarding our new packaging?