Simplicity | Convenience | Accessibility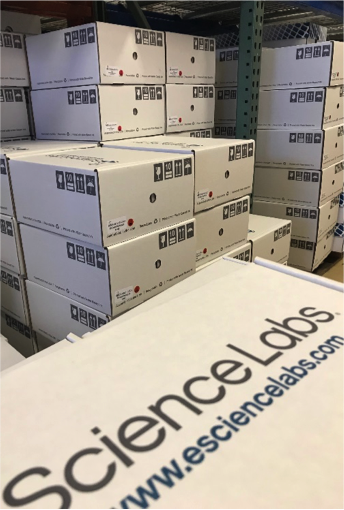 In higher education, the beginning of each term can be pretty chaotic. New schedules, drop/add periods, and class changes can quickly eat into the early weeks of a semester. Enabling students and instructors to source and obtain course materials easily and efficiently can go a long way to helping educators maximize learning time and facilitate student success. 
eScience Labs is focused on providing shipping that brings simplicity, convenience and accessibility to immersive online and blended science learning for students and educators. eScience Labs DELIVERS is a quick-response initiative spearheaded by the ESL shipping team. This program helps solidify eScience Labs as the premier provider of packaged science lab kits that deliver first-hand science experimentation to students.
"We're always looking for ways to bring added-value to instructors and students. Strategic sourcing from our vendors and systems designed for lightning-quick response by our shipping team helps ensure that science students and educators have what they need when they need it" stated eScience Labs' Warehouse Manager, Ken Bronson.
With same day shipping in most cases, eScience Labs helps eliminate the possibility of students falling behind in coursework due to prolonged delays in the delivery of lab materials. 97% of orders for lab kits that are placed by 12:00 noon MST are shipped within 2 days.
Explained Bronson, "We've had many conversations with educators and received positive feedback regarding our quick fulfillment. By utilizing our systems and technology to process orders quickly, eScience Labs can eliminate unnecessary delays and use added efficiencies to make things easier for everyone". Along with quality, affordability and the ability for customization -- the eScience Labs' Delivers initiative serves as yet another differentiator aimed at making online and blended science learning easy and effective.
For more information on incorporating a first-hand, empirical lab experience into your lesson plans, contact us today.