By Caitlin Runne-Janczy
DENVER – Feb. 5, 2016. Students at Stargate Charter School in Thornton, Colo. recently participated in an afternoon of science and fun at an eScience Labs-hosted science fair.
Members of the eScience Labs team set up five experiments for students to participate in. From dissecting owl pellets and identifying the bones within to using rockets to learn about the principles of physics, the students had a blast.
"Science has a way of sparking excitement," said eScience Labs subject matter expert Andre Scheinwald. "It's naturally engaging because kids are naturally so curious. Instructional designer Annie Woodle added, "It's wonderful when you have to beg children to stop working on an assignment. It was great to see the kids so excited to learn."
eScience Labs will be returning to Stargate Charter School twice in April to host additional science fairs.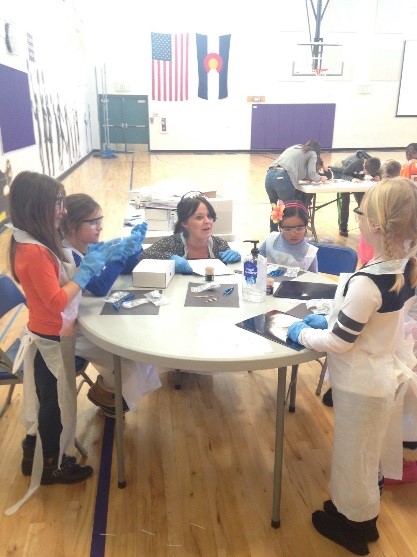 Students and science: Annie Woodle, eScience Labs instructional designer, helps Stargate Charter School students prepare to dissect their owl pellets.